I have previously made some posts about Ray Ban and Oakley sunglasses from Aliexpress but there simply are so many cool sunglasses to choose from. So I have decided to find 5 more sunglasses from Aliexpress I find cheap and cool.
Should I go for cheap or expensive replica sunglasses?
Well, as always, the difference between cheap and expensive replica sunglasses is solely a question of quality. The cheap ones  look really good but does not offer any kind of eye protection. They also tend to break faster or loose an eye glass. But if you only pay 2-5$ for a pair, it does not really matter anyway. But I do think it is of upmost importance to protect your eyes! I would rather loose my arms and legs than end up being blind. This post is ment for cheap sunglasses and they can easily be worn if you are not wearing them in direct sunlight.
Unbranded sunglasses from Aliexpress
Unbranded sunglasses Aliexpress
I think these look great. I am not sure if it is a replica of some brand though. They only cost 4$ for the mens and 4,4$ for the womens sunglasses. I have just ordered a pair and will post a picture of them when I receive them. Please feel welcome to contact me if you have some pictures of anything you have bought from Aliexpress.
The price includes shipping and with a small pricetag like this, I don't have to wotty about customs.
Evoke sunglasses from Aliexpress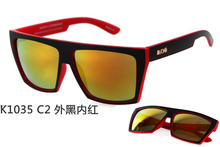 These are not unbranded but I think it is some Chinese brand. I have never heard of Evoke before but they still look cool. Little bit different than normal sunglasses and the squared eyeglass form is quite hip at the moment. They cost 5,12$ per pair which is quite affordable.
Replica sunglasses from Aliexpress
Carrera sunglasses Aliexpress
This brand is very popular in Denmark and I already own a couple of pairs of Carrera sunglasses. These cost 12$ including shipping and is just under the custom limit in Denmark – Perfect! There are many different models on Aliexpress and to find the search for carr sunglasses on Aliexpress.
MB sunglasses Aliexpress
MB aviator glasses look very nice and this classical Aviator model fits good for people who are tired of Ray Ban aviators and want to try something new. MB is a very exclusive brand and these only cost around 12$ at Aliexpress which is quite a bargain. They are even polarized so no worries for your eyes 🙂 To find MB on Aliexpress search for Monte or MB.
Ray Ban Round frame Aliexpress
A classic from Rayban. I have bought my share of these on holidays in Thailand. These cost 34$ and includes shipping. The quality is aaa+ and the shop has a fantastic reputation. I hope you liked the shades I found at Aliexpress, enjoy the sun!