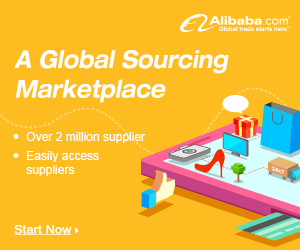 Alibaba
Alibaba is a website where buyers and sellers from around the globe can meet. It is an international trade forum, which is open around the clock and it has turned out to be brilliant. Today the company has millions of users spread across 200 countries.
Alibaba are partners with Yahoo, and there are owners of Yahoo's search engine in China.
Alibaba.com was founded in 1999 in an apartment in Hangzhou of China's English teacher Jack Ma along with 17 other co-founders. The company's total startsum was 50.000 US dollars but last year, Alibaba was listed at the New York stock exchange. Along with Alibaba he also have the site Aliexpress.com and many more.
A company called Alibaba may not sound Chinese. But from the outset it was intended that it should be an international company. The name was chosen because its founder, Jack Ma, noticed that no matter where in the world he traveled, the name "Alibaba" was recognized, while there were good associations associated with the name.
Alibaba has changed ecommerce
Alibaba has enabled commerce over the Internet, and their success is because they chose a different model: They came with the world's largest "dating site" for small and medium-sized companies. Alibaba's strategy was not to listen to what the experts said would work, but instead think of what consumers wanted. Therefore, it is free for buyers to use the site to find their future dealers.
Aliababa have the last four years every year doubled in size – both when talking about income and the number of users.
After the buyers and sellers have found each other via Alibabas website they can continue their business offline, and negotiate directly. Alibaba ensure that exporters and importers find each other – and nothing else. The website is a search engine where you can look up, what you are looking for and see ads from all those companies that offer the product. Then it is up to you to make the contact. The concept works a bit like the yellow pages, but in three dimensions instead of two. For here potientiele buyers can have the goods presented on video. There is a large market for this kind of on-line trade fairs.
Doing business abroad has been something that required a lot of resources, and it can easily take three or four months to visit trade fairs and contacts abroad to find partners. Online, it typically takes three to four weeks to complete a trade. Alibaba's success is that it is very time-saving for enterprises – and if a business can save time, they also save money. Alibaba has millions of users from over 200 different countries. About 15-20 percent of the users are in Europe.




Avoid fraud at Alibaba.com
Shopping online can go wrong, and if that happens then Alibaba recommends that the two parties of the proceedings look back – often there is a misunderstanding. It happens easily when there are different cultures and languages involved. Judicial epilogue goes through the normal channels, but accusations of proven fraud is being taken seriously, and if there is truth in the allegations it will result in the fraudsters being removed from the site.
One of the problems both in fact – and especially on the Internet – is trust. Therefore, Alibaba set up a so-called "Trust Pass", a system of recommendations and comments on the trades that can help new users to find out who they can trust. Users can pay below 700 they want authenticity checked by Alibaba.
Alibaba was a few years ago partners with Yahoo in the United States, and owns and operates Yahoo China. Yahoo-dot-cn comes in a slightly different version than Yahoo-dot-com, the focus is not on the news but entertainment. It is quite normal, as do many other international media. Alibaba's problems started when the Chinese government asked for the IP address of a critical journalist who wrote on the Internet. With the electronic IP address can be traced from the computer posts on the internet is written. Yahoo disclosed that according to the government acted on disclosure of state secrets. The journalist was sentenced to 10 years in prison and Yahoo has since been heavily criticized – including by the US government – for their handling of the case.
A solution to the problem of trust on the Internet?
Of course, you can not be free of problems with forgeries online. Nevertheless, on Alibaba.com, you can notify companies that you think break copyrights by filling out a form on-line. Alibaba.com then give the company accused a chance to provide a complete answer to the charge. But if they can not do that, then their ad is taken down. And if repeated problems of this nature, then their account with Alibaba will be closed. In this way, it is actually easier to take care of problems with breaches of copyright on the Internet.
– The good news is that in the online world can all see the falsification with their own eyes, and by using technology to find the offenders. It's much better than that things happening in the dark – without transparency.
The future of the Internet and online shopping
Alibaba also owns taobao.com, China's largest portal for online shopping. In China, there are already 210 million Internet users, and the number is growing. The government is working itself with determination to expand Internet use in the villages.
You can find Internet in all China's villages and it is quite sure that China will become the world's biggest user of the Internet and also internet trade will continue to grow steadily in China.
Although the number of Internet users is big in China, the internet approach today of only 16 percent, according to a report from the China Internet Research Centre, and the figure is slightly below the world average of 19 percent. But as the number of Chinese is growing day by day, it is shown quite sure that China will soon be the country in the world with the most people online.
So if you are seeking products online for your company, Alibaba.com is surely the best option to find relevant future business partners.