Finding a drone on Aliexpress is easy but findng the right one is difficult
Search "drone Aliexpress" and incredibly many results will show up. So, which ones are the best in terms of quality, design and price compared?
Drones have become very popular. Just a few years ago no one really knew about drones, but thankfully it has changed.
Drones have become a toy. A piece of high-tech toy. However, there is no doubt that drones will evolve from being a toy to being a flying-object that can make a good use – for example, to record video for the news, or sending things back and forth. What drones will evolve to is hard to predict – but one thing is certain: it will be interesting.
If you are not looking for a specifik model and want to find the most reputable Aliexpress Drone shops, then read: The 5 best Chinese shops for buying drones
Most popular drones on Aliexpress
Ar Drone 2.0 fro
m Aliexpress – with built-in HD camera
AR Drone 2.0 is one of the cheapest professional drones you can get, yet it is also one of the best. There is a reason that this drone is undoubtedly the most popular in Denmark and many other countries.
With a built-in HD camera and a fantastic application for Smartphones and Tablets, this is undoubtedly a drone you should own – whether you're a novice or practiced.
DJI Phantom – the beautiful and professional
If there is a drone that is nice, it is undoubtedly DJI Phantom. It has an unique design, looks like a bird when flying in the wind. DJI Phantom is additionally also one of the most technically drones that exists – around the world.


With a GoPro Camera  the DJI Phantom is without doubt the best and most professional drone, to date. You have to see the drone before you can imagine how great it is! What is better is that Aliexpress probably sells the drone cheaper than any other place.
What is a remote-controlled drone?
There are two types of drones: the ones we call remote, and those that the military uses in combat actions. You have landed on this page because you are interested in the so-called remote-controlled mini drones – or as one popular and technically call them: Quadcopter drones.
I prefer to just call it a drone, for I know that you know that this means the glorious remotely controlled drone. A drone is like similar to a remote-controlled helicopter – it's just far more technical and can be used for many different things. For example, a drone can be used to make great movies of your city, the countryside or the terrain it is flying in. Some of the drones fly up to 300 feet in the air, so there is ample opportunity to get some cool videos in the box. Most drones have namely a head camera, or you can easily mount one on the drone.
Conclusion: a drone is a technical helicopter that can be used as toys and other practical things: for example, for taking photos and making videos.
Other popular drones at Aliexpress.com
There is not yet a particularly large selection of drones at home in Denmark, since drones are still a relatively new thing which makes Aliexpress a drone heaven for me. There is no doubt, though, that drones will rumble forward in the next few years because they are very technical and can be used for many practical things. The Syma X5C is only around 30-40$ and comes with a HD camera.
SYMA X5C Drone 2.4G 4CH 6-Axis Remote Control RC Helicopter Quadcopter With 2MP HD Camera or X5 No Camera 100% Original Aliexpress.com
The Walkera QR X350 is more or less a DJI knockoff but people seem to love it. Almost all reviews I have read are good and it is only 478$ compared to the real Phantom which is 1.439$ on Aliexpress.
Walkera Sky Eye QR X350PRO Aliexpress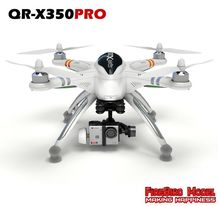 You must purchase a drone from Aliexpress because:
That it is a great toy. Although there are many who use drones to practical things, such as farmers who can overview his fields, or photographers that use them to get great pictures of sights or headlands. Nonetheless – drones are for normal people a piece toys. A piece of technical toy that can really make you get in a good mood.
Thus, Aliexpress has many shops selling drones at bargain prices.
Drones are no doubt the future. Drones will develop very rapidly over the next few years – but in which direction they will evolve, I unfortunately can't tell. But I can only say that if you buy a drone now, you will be a master at drone flying when it becomes normal to all people.
There are many other reasons – but I will not keep you busy throughout the evening.
See more drones at Aliexpress.com