Cheap smartwatches Aliexpress
Does a smartwatch always have to cost 300-400 dollars, or can a cheap Chinese smartwatch from AliExpress compare? – How good are the cheap smartwatches from AliExpress and how much do they cost? I have investigated these issues, and have for this test bought a cheap U8 SmartWatch for 12$. The U8 Chinese SmartWatch from Aliexpress is available in the following colours – black, white, red and looks at first glance very chic, but what really lies beneath the display?
How packed are the cheap Smartwatches from China?
Specifications of the U8 SmartWatch from Aliexpress:
The U8 Smartwatch from AliExpress is also a fitness tracker and shows health parameters such as steps, kilometers and calorie consumption – Plenty of bluetooth functions.
The to be connected to smartphones, you should have at least Bluetooth V2.1 or higher on the phone. But all normal mobilephones have that today.
Features:
Sync contacts and phonebook with smartphone
Sync SMS – only with Android devices
Sync incoming call with smartphone
Sync music with smartphone
Camera: The camera function can use the smartwatch as a remote  to take pictures. (Unfortunately only for Android smartphones)
Another practical feature is that calls or reminders are displayed by vibration. That works nice in loud environments such as parties. This way you won't miss a telephone call, no matter how noisy it may be.
NOTE: Android smartphone can use all functions of this watch. IOS Apple phones only:
The SmartWatch is compatible with:
iPhone 4/5/6/6 plus (all models), iPod Touch 3G / 4G, iPad (all models).
Note: For IOS systems, only Passometer, Calendar, Call Sync, Calculator, Clock and Stopwatch can be used.
Samsung Galaxy models (smartphones and tablets)
All smartphones with Bluetooth as HTC, Nokia, Sony Ericsson, Blackberry, Huawei etc …
How good are the Chinese smartwatches and how much do they cost at Aliexpress?
Best u8 smart watch seller Aliexpress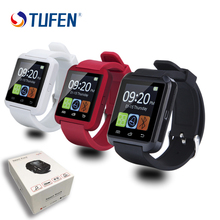 I paid 12$ for my Aliexpress smartwatch and so far everything have worked out fine. It looks chic and for the price it is amazing. Would never spend 300-400$ for something that might be better but definitely not 40 times better. There are many shops to buy the U8 smartwatches from. Of course there are many more model available at Aliexpress but if you want a cheap one, the U8 smartwatch is the best bargain.
Because the price is so low on most Chinese smartwatches, you don't even have to pay any additional taxes, when entering your country. Amazing.
Other Aliexpress smartwatches
Check out more Smart Watches at Aliexpress
I will try and order a slightly more expensive Chinese smartwatch from Aliexpress soon, to see if they give even more value for the money. Some smartwatches between 20-40$ look too nice, especially the GV18 watch, which is also waterproof.