Review of fake Gillette razor blades from Aliexpress
I have bought a fair amount of fake Gillette razor blades from Aliexpress during the last couple of years. The quality ranges from almost dangerous to very good. I have bought from around 6 different sellers and only 2 of these shops provided me with some good decent razor blades. The last 4 sellers earned some very bad feedback reviews from me. The bad blades are either crazy sharp or completely blunt. I would rather shave with a sharp kitchen knife than using the bad counterfeits
Read the reviews and feedback before ordering blades
But there are good fake razor blades as well. Their shaving abilities are as good as genuine blades but unfortunately they don't last as long. To find the good quality blades, you need to read the reviews and feedback given to the shops selling them. This counts for all products at Aliexpress. The bad feedback is actually the most interesting as it gives more insight than all the good feedback.
Also choose the most popular blades such as Mach3 and Fusion blades because the competition is bigger and it is therefore more profitable to make good replicas. I have provided a link to a seller I use, and I have so far completed 5 orders without having any trouble. The shop has a 4,6 out of 5 positive feedback for their Fusion blades and the price is at this moment 7,92$ (18% off) for 8 pieces including shipping.
Gillette Fusion Power (1 Pack 8 pieces) Aliexpress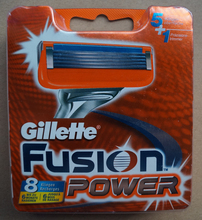 The blades in the link are fusion blades, the product picture has been altered because of copyright reasons.
Customs and razor blades
Because razor blades are partly made of metal, customs tend to open the packages. In Denmark this is not a problem since you are allowed to buy counterfeit products for your own use. If this is not the case in your country, I will not advise you to order counterfeit razor blades from China because they might get you in trouble.
Finding the replica model you want
It is very easy to find the model you use. Simply type in the model name at Aliexpress and don't type in the brand name. So if you want to find Gillette Fusion power blades – Type in "Fusion power" and you will get many results at the Aliexpress Homepage