I tested three different China tablets from Aliexpress – See if I would recommend a cheap China model
It is no secret that the smartphone has becomed something that everyone owns. The same is happening with tablet computers.
The Apple iPad is a popular product but not everyone feels they have the money to buy one. This makes increasingly more consumers to turn to the East, especially China, to find cheaper alternatives.
But can it be worthwhile to save money and buy a cheap China-product? Do you get what you pay for?
I have decided to make a test of some of the units imported from Aliexpress in China.
Sellers at Aliexpress sell tablets and smartphones from just China. I have bought 3 different tablets to test them. I do have an Ipad but Aliexpress tablets are really cheap and if they are good why spend a fortune on Apple products?
For the Aliexpress tablet test, I have:
1: IRULU X1 10.1″ – Price 77,50$ incl. shipping
Android 4.4 Tablet PC Quad Core 1GB/16GB HDMI Bluetooth3.0 GPS
Unspecific brand 9″- Price 57$ incl. shipping
Android4.4 quad core tablets pc wifi bluetooth 1GB 16GB 9 inch tab pc OTG USB Dual Cmaera 3G External 1G 16G Quad Core
Teclast X98 Air 9,7″ – Price 281$ incl. shipping
9.7″ Teclast X98 Air 3G Dual Boot 2GB RAM 64GB Intel Bay Trail-T Z3736F Quad Core Tablet PC 2.16GHz Retina Screen GPS Phone Call
IRULU X1 chinese tablet:
First, a look at the physically largest of the three tablets. The IRULU tablet is equipped with a 10,1″ screen of 1024×600 pixels.
Product design is very similar to Apple's iPad products, but without the characteristic "Home" button.
The IRULU tablet is built in an aluminum casing and has a wide white border around the screen. It looks very nice and the buttons are steady and not loose as I have read could be the problem with cheap chinese tablets.
The unit is equipped with an USB port for charging and can be done via a computer or an external power device.
When the device is turned on, the familiar Android environment appears. The system available in this unit is: Android 4.4.2 KitKat
It looks as if the device responds well and fast, when pressed on app icons. When, for example. press the Browser icon will light it up immediately, but here it takes a little time before the browser is closed up.
After entering a Web address in the browser address line, the user must prepare for a little wait time. It is not that bad but it takes longer than on an Ipad.


The camera impresses with pictures but makes bad videos:
Let me say it straight: The screen delivers a medium performance with videos. A video clip played in both the 1080 HD and the reduced resolution, it seemed, in both cases a little pixelated.
The screen is also not particularly read-friendly as the surroundings are reflected sharply and in some cases it works almost like a mirror. Not a problem inside but outside in the sunshine it goes wrong – The screen is hard to read but I guess most tablets have that problem.
The tablet comes with a few pre-installed applications but more can be retrieved through Google Play.
The camera is, as I said, excellent. Both front and rear cameras are good and deliver a performance almost as good as my Ipad. Shaking motions should be avoided though.
Conclusion: IRULU X1 – It is well worth the money and I rate it 8/10
To view all specs:
iRulu X1 10.1″ Android 4.4 Tablet Aliexpress
Unspecific brand 9″ chinese tablet Aliexpress
Now we go over to the smaller 9″ tablet which on paper appears to be a small powerful device.
Android4.4 quad core tablets pc wifi bluetooth 1GB 16GB 9 inch tab pc OTG USB Dual Cmaera 3G External 1G 16G Quad Core
the unit has WiFi-only, with 1GB RAM, 16GB memory and 1.5 GHz quad-core processor and dual cameras.
The unit is built into a plastic box, with white buttons for on / off and volume control. Buttons act of significantly lower quality compared with the URULU X1.
At the front the tablet has the classic black frame around the screen and touch buttons: "Settings", "Home" and "Back".
Fast processor but slow Internet
When the device is powered up and the fingers start to work through the menus, and among the different apps, you sense less data-force than its big brother. Here are some waiting when apps selected and started up.
Websites load slow in built browser. It may take a long time to download full websites.
What good is it to have a tablet if you can not even come in contact with the outside world? The tab suffers, unfortunately, a big problem: The ability to keep the network connection is very poor.
If there are just two walls between the device and a WiFi router, you loose the fast connection and it is not possible to search the router again.
This means a trip to the router to search for the router and connect again. Very annoying when you, as I, is used to be able to move around the entire house.
I have never previously tested units that have been so bad to maintain the connection. But of course this tablet is cheaper than cheap:-)
The keyboard is kinda hopeless
It suffers to some extent by a keyboard, lagging slightly behind the entry or directly makes mistakes when typing.
During the test, it happened several times that the device has written directly wrong or added several extra characters and letters.
The screen – acceptable quality
The screen is significantly better than other screens I have seen and actually makes it acceptable and demonstrating full HD videos in an okay quality, especially when taking price into consideration.
Conclusion: Unspecefic brand tablet from China – Positive elements, but in several areas unusable. I rate it 6/10 and the price really pulls it up!
Check specs and buy it here:
Unspecefic brand tablet Aliexpress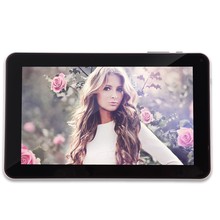 Teclast X98 Air tablet from Aliexpress
A 9,7 "tablet that on several points stand out from the other two tested products. This runs with Windows 8 and I will not make any comments on the operating system – Only the performance.
The device is thicker and heavier than the other – Again, build quality is highlighted. The unit seems robust and buttons does not feel cheap, though they are made of plastic.
The back is made of high-gloss white and the front is typical tablet design, with a white frame around the screen and touch buttons on the front.
Hooray! – Stable and acceptable Internet.
The Teclast tablets is equipped with both WiFi and 3G, which means that it can receive and transmit data via the mobile network, as well as make phone calls.
In other words, that is, no need for a WiFi connection, for example. to get on the Internet.
Use WiFi to access the Internet and connection is good and stable. The same is true when using 3G.
Unlike the other two products we tested, running the Internet actually is same as an Ipad – fast and nice. Full websites load without excessive waiting time. This applies when the Internet is used via WiFi and 3G.
Good screen and honorably camera
The screen does impress. It has a Retina screen and quality is same as an Ipad and the resolution is 2048X1536 pixels.
The camera performs decently with its 5 mega pixels camera. Images are sharp, with nice colors and mostly with the correct white balance. This also counts in poor lighting conditions.
Conclusion: Teclast tablet – best China tablet but also the most expensive. I rate it 8/10
See specs and buy it here:
Teclast tablet Aliexpress
If I had to choose, I would rather invest in an iPad Mini than buy chinese tablets but that is only because I am addicted to the Apple software. I have too many problems figuring out the Android and Windows operating systems. If you like Android or Windows, then there is no doubt that you should buy a tablet from Aliexpress.